Effective Filament Winding
®

Lines
Complete control of all

production parameters
Our E-CFW® Line is the first-ever Continuous Filament Winding production line, designed to perform the required tasks to obtain the EFW Key Performance values.
The equipment is prepared for any type of GRP manufacturing, electronically controlled, high precision, and self-calibrated auto-adjusting dosing system allowing you to set up a customized process for your raw materials.
The precise data that is recorded in our E-CFW® Lines, together with the EFW® analytical technology will help you to discard the causes that are not related to a specific problem, arriving in a more versatile way to the root cause.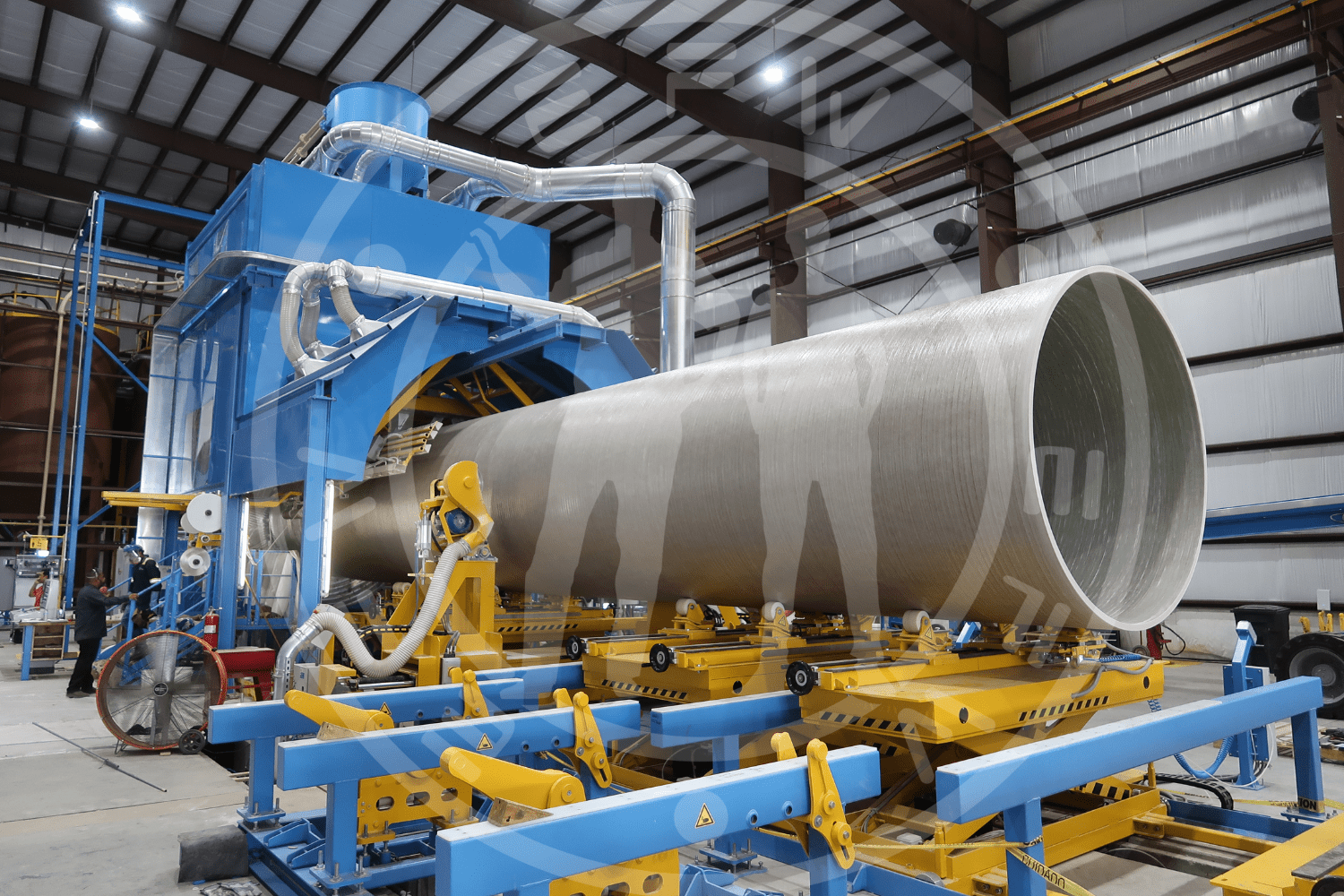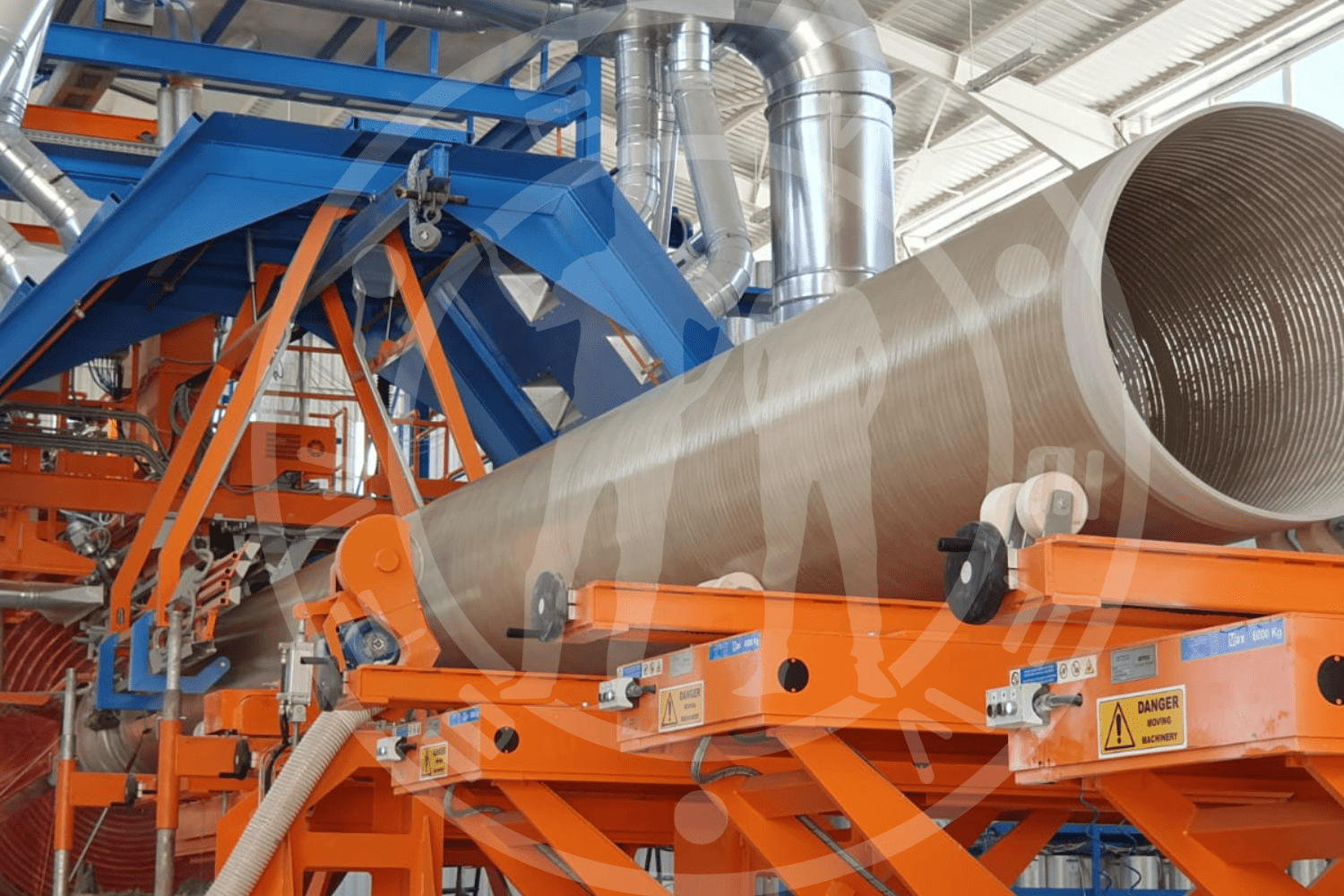 It may look like a CFW Line but is unlike any CFW Line.
Combining the Dynamic Sensors and Smart Feedback Algorithms integrated into our Effective Filament Winding® Lines, together with our data-driven, Effective Filament Winding® Technology, you will be able to accurately track, anticipate, and control all risk factors.
The E-CFW® line, including manufacturing, testing, ancillary and laboratory equipment, includes high-tech sensors and data collection for the EFW Key performance indicators monitoring and EFW OEE (Overall Effectiveness Equipment) calculation.
Aim first to be effective, then to be efficient.
Producing effectively means reducing costs, thus increasing profits, and the quality level of your products.
To succeed in the GRP pipe industry, you need to be effective and only then be efficient. To be effective you need to perform the right actions in the correct sequence, combine different raw materials in the most efficient way possible, and constantly optimizing your process parameters relative to the production conditions.
Once you have created a balance between your GRP pipe technical specifications and the required end values, you will be ready to work on the efficiency.
The power of the Effective Filament Winding approach.
We provide cutting edge machinery, methodology and continuous support, driven by our EFW® approach.
Armed with a detailed understanding of your own production process, using our next-generation CFW Lines and applying our
Effective Filament Winding® Technology, you will be able to clearly define and achieve your forecasted results.
Immediately after, you will be able to start the process optimization loop. This will allow you to achieve results you have previously considered impossible.
The Key to Your Success Lies in Our E-CFW® Lines!
Learn more in our EFW® Blog
The first ever blog dedicated to the EFW® Technology.
We created a unique blog so you can read all about our EFFECTIVE FILAMENT WINDING® Technology in one place!
It is the FIRST and ONLY blog, dedicated exclusively to the EFW® TECHNOLOGY, which is the first and only approach that allows profit optimization in the Filament Winding industry.
You can read all about the implementation of the EFW® Technology, how it connects all stages of your production and ensures that you are able to produce the best possible product and increase your profit.
Click on the button below, bookmark our blog and be up to date with our exclusive articles dedicated to the EFFECTIVE FILAMENT WINDING® Technology.
Subscribe to our newsletter
Receive valuable information and great insights on Effective Filament Winding® GRP pipe production.
FILL UP THE REQUIRED FIELDS BELOW AND SIGN UP