North American manufacturer selected TOPFIBRA in their multimillion-dollar capital investment program.
HOBAS PIPE USA is the leading North American manufacturer of corrosion resistant fiberglass pipe products for water and wastewater related infrastructure.
They have selected TOPFIBRA as a technology front runner for the Effective Continuous Filament Winding GRP pipe production line.
The investment in the new E-CFW technology and equipment will increase HOBAS's manufacturing capacity by 50%.
Martin Dana, President and CEO of HOBAS, is extremely pleased with the selection. This investment is a game changer for them.
Mauricio Facchinetti, CEO and Co-Founder of TOPFIBRA, says that their E-CFW manufacturing plants fully supersede standard filament winding machines.
TOPFIBRA is a pioneer in the implementation of E-CFW Plants for the manufacturing of fiberglass pipes.
By setting up this E-CFW manufacturing Plant in the USA, TOPFIBRA continues its commitment to supply EFW® production lines.
Both companies are already enjoying the fruits of this long-term relationship for North America. They are fully committed to doing their part to provide value to the world's water infrastructure.
Read the whole press release below: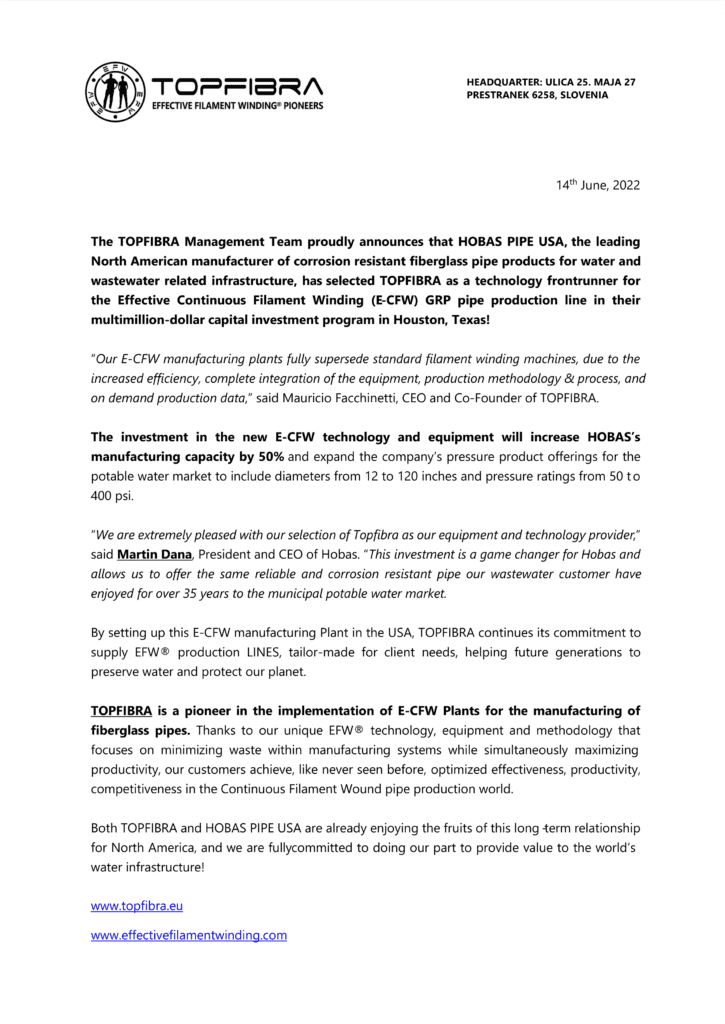 You might also be interested in CFW technology upgrade: your go-to for cost reduction.